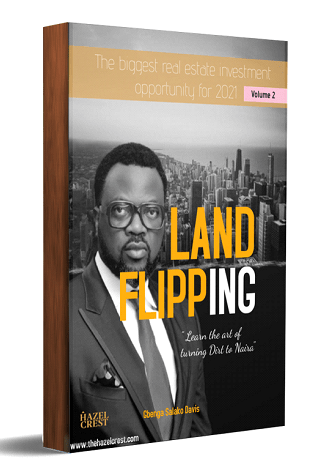 When undertaking any sort of task, your best chance of success will come if you set clearly defined goals and pick up some self- help educational material on the subject matter.

Getting started with real estate investing is no different. Setting real estate investment goals involves taking a lot of factors into consideration to provide the best chances of success.
there are some things to keep in mind when setting real estate investment goals:
One of the best methods to make a huge amount of profit in a relatively short time with real estate is by FLIPPING LANDS, in this article you'll learn how to turn dirt into NAIRA
its a business where demand goes up and supply goes down every day,
What is Land Flipping?
This can simply be defined as a process of buying land at a relatively low price and selling at a higher price for profit.
Its sounds simple, however, it is not, yes you can make millions of Naira in profit within a very short period of time, and it is one of the simplest and easiest investment business models, however getting it right still takes some skills and knowledge.
HOW TO FIND THE RIGHT LAND?

Land Flipping is perhaps the best way for any investor to get started in the real estate business. This is especially true in a developing city like Lagos, where there are plenty of opportunities. An investor that has the foresight and a bit of patience is bound to make money and profit by flipping.
Some of the advantages of Flipping lands over an already developed property are.
Raw vacant land can bring in massive amounts of cash flow if done right, and it is a great way to make money quickly in the Nigerian real estate market.
As long as you own the right piece of land(i.e in a trending
location) and have bought it at the right price, you are likely to have no issues reselling or flipping for a profit.
Undeveloped raw land is generally less expensive to buy than developed properties.
Lands are generally cheaper than developed properties, which means you can start small and grow your portfolio big enough to eventually be able to secure financing for future investments.
Raw land is easier to maintain and you pay little to no taxes even if you have to hold onto your investment for a long period of time.
There is less competition, as not many people have the knowledge or patience to buy, hold and flip for a profit
You must be able to find cheap or relatively affordable land Location is very important as you must be able to find land that is or may be in demand in the near future, thus making it easier to eventually sell.
The most important step to follow is finding land that is or may be in demand. This is primarily due to the fact the value of any vacant land is ultimately tied to its location.
But how can you predict or find the perfect location that has potentials or is currently in high demand?
One easy way you can do this is to simply do your a research online, according to Nigerian property centre below is a chart of the top-selling and in-demand location in Nigeria
To make huge profits in flipping lands, follow these tips:
⦁ Research thoroughly: pick out areas that are rapidly developing, have the potential for developing in future or already developed areas. Depending on the location and economic
viability, certain areas mature faster than others.
If you're opportune to acquire land in a more developed area at a
fair price, go for it. More developed areas are the easiest to flip in a couple of months and earn profits compared to developing areas. Developing areas may require a couple of years to fully appreciate.
⦁ Ensure that the seller is the rightful owner of the land: and has complete land documents including a Certificate of Occupancy or a Governor's Consent. Avoid lands with inconclusive land titles
like Excision in Process or Gazettes. Since you're reselling, you must avoid getting caught up in land title issues. Go for clear, genuine lands with the appropriate land titles
⦁ If you've secured the perfect land at an ideal location, do some work on the land: Clear the land, create a path or road to the land. Get a surveyor to get the area marked and craft a brilliant description of the area; highlighting advantages to cajole a potential buyer to opt-in. If you cannot write professionally, employ the services of experts in the field and then, run adverts on the
land, utilizing the numerous social media sites and other forms of advertisement. Avoid getting attached to any property, so it's easy to let go and sell to someone else. Always keep in mind that it is business, and you're out to make a profit.
you have to do comprehensive research, concentrated on areas that can develop in the not too distant future or are developing fast. The more developed the region, the more valuable land there'll be,
However, you will probably have to hold on the property somewhat more for the region to grow prior to selling. Therefore, if you're seeking to market or flip faster, consider more recognized areas at which you have the potential to Flip in weeks rather than months.
Even though both of these cities(Lagos, Abuja) are comparatively well developed, you will find pockets of areas which are still launching, especially in Abuja, Lagos and Ibadan. Abuja is being constructed in 5 stages and just stage 1 is completely developed. If you have a property in stage 2,3,4 or 5, you have positioned yourself to earn massive profits when development comes to your neighbourhood.
You may begin your search online, but working with an estate agent who understands the market at the place you're thinking about is sensible.
Estate agents have insider knowledge and will emphasize the very best neighbourhoods and consequent lands to get. Additionally, estate brokers usually have knowledge about prospective governmental infrastructure projects that are inclined to raise the price of a property in those areas soon.
INCREASING THE LAND' S VALUE
As soon as you've purchased and registered the property, it is
wise to proceed to do a few minor improvements on the land. This would help increase the value in the eyes of your potential buyer
You want to be creative with this, so perhaps you may clear the region of weeds and specks of dirt, or develop a road network for easy access to the property or perhaps fence the tract of land.
In case the property doesn't have any access to utilities like
electricity or water, you might think of addressing that before you sell.
Basically, just do anything you can to assist any prospective purchaser to determine the future potential and worth of your property, this will guarantee a faster flip/sale.
Though most people don't realize it when marketing land
/property, poor access road can be the single greatest detriment to closing sales.
Plant trees: Just as clearing the property can help add value, planting trees can add value as well. If the land is flat and open, planting trees can not only add privacy, but beauty as well.
Make sure that when you plant the trees, their placement does not block any scenic views that your property offers.
Trees will do more than just add beauty and privacy. They will also add significant value.
Build Structures: Another simple way to add value to your property is to build a structure, such as a cabin while this isn't an improvement that's affordable or practical for every piece of
land.
Building structures can add value, it's important to bear in mind that, you may turn away potential buyers who are looking for
vacant, raw land. Consider the types of buyers that purchase
land in the area and their needs. If they typically purchase land to build their dream home or vacation home, it may not be worthwhile to build a structure of any kind on the property