How to make money in one of the best economic sectors in Nigeria: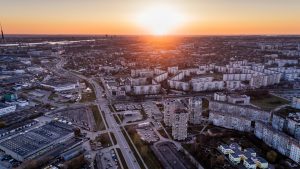 Real estate investment in Nigeria is one thing that is a must for anyone that wishes to get rich or to stay rich. This rule is not applicable in Nigeria alone but most countries in the world. The beauty of the real estate is the great percentage of the returns within a very short time, in addition to the high level of security for your investment if done properly. Buying and selling houses or land is different from dealing in vegetables which may perish if not quickly sold off. The price of a car starts immediately to depreciate after purchase, no matter how well it is maintained, but the value of your land or house continues to appreciate even if you leave it abandoned for years. A good investment in real estate continues to appreciate and you could within a short time gain up to 100% or more returns on your investment. Real estate is currently doing great in Nigeria and investors are making millions of Naira from this sector. Interestingly, it is an area anyone can invest in, irrespective of how much he or she is making or earning a salary at the moment.
The following are ways to go about real estate investment in Nigeria and get good returns.
1.Land Sponsorship: There are lots of families who own large hectares of land but lack the money to do the survey plan and the necessary documents from the government. These landowners go into an agreement with a sponsor who is willing to fund the process of surveying and authentication of the property in exchange for a certain number of acres or plots as already agreed. Usually, a sponsor is awarded a plot of land per hectare, and depending on the size of the property, he could get as much as a hundred plots of land or more in one deal. These lands could be sold off immediately by the sponsor at a good profit or he could wait and sell it a couple of years after when the value of the property would have doubled.
2. Purchasing Properties From Real Estate Developers: You can buy property from estate developers, resell the property after a few months and make a good profit. This is because properties located within estate developments are fairly priced as developers want to recoup their investment within the shortest possible time. These developers also offer flexible payment options to attract investors and you can cash in on this to make a size-able profit is some notable property development companies that currently offer these kinds of services are HAZEL CREST, AMEN ESTATE, REVOLUTION PLUS each with its own terms and conditions
3. Renovating an Old Building: You can buy an old house, remodel it and sell or lease it out for some good profit.
4.Land Lease: You can buy a piece of land and lease it out to business ventures that need open spaces to operate. These ventures include car washstands, automobile repair shops or any other business venture that can operate in a temporary structure. You will be earning money from the rent while the value of the land keeps appreciating. The beauty of land lease is that land does not suffer wear and tear like buildings and you get to sell your land anytime and walk away with very good profits.
5.Property Development: This is one of the most lucrative of all investment opportunities in real estate as you can reap hundreds of millions of Naira in profit in a wise investment decision. You can buy land in profitable locations, develop and build luxury apartments and sell at a high-profit margin. However, this business requires a lot of money to actualize but you can present your business ideas to financial institutions and form a partnership where you will handle the development and they will finance the project.
Owning Commercial and Residential Rental Properties: Commercial office spaces don't come cheap these days.
So there you have it, 5 opportunities to make wealth with real estate investment in Nigeria, but if for any reason you think to yourself "how do I get the money to invest? " maybe as a low-income earner or you simply want to minimize risk…
Here is how a low-income earner could build a house and become a landlord in Nigeria within the shortest possible time. Your best bet is to save a percentage of your income, no matter how little it is, and at the end of each year use your savings to purchase a plot of land in an undeveloped area that shows the prospect of appreciating fast within the next couple of years. In Lagos for example, there are undeveloped areas In Ibeju-lekki where lands sell as cheap as 1-3 million Naira only. The real challenge here is being able to identify those areas that would develop fast. This is not a problem because there are lots of ways to tell if an area would develop quickly contact hazel crest for a free consultation and expert advice on this
Now, having been able to purchase a piece of land with your little savings at the end of the year, repeat this the next year and you would have acquired for yourself five different plots of lands with ease in different areas within five years.
You could now go ahead and sell off four out of the five plots of land at a great profit and with the proceeds build for yourself a suitable house on the remaining plot.
This is one of the ways an average earner can build and own a house with relative ease, and it is a method that has worked for so many people in the past.